C&C 35 MkI 1973 Island Time

New Headsail and Rollerfurl!
New Epoxy Barrier Bottom just completed!
New SS keel backing plates just installed!
Beautiful Awlgrip Flag blue hull!

SOLD

INFORMATION UPDATED: Sept 1, 2009

Yard Picture - work completed

Yard Work List: Epoxy barrier coat and bottom paint have been applied. New SS keel bolt backing plates are installed. Boat is now being cleaned prior to relaunch - This boat is in great condition and ready for some sailing!!


Previous picture at the Yard: Bottom peeeled in Jaunary and dried out to late April.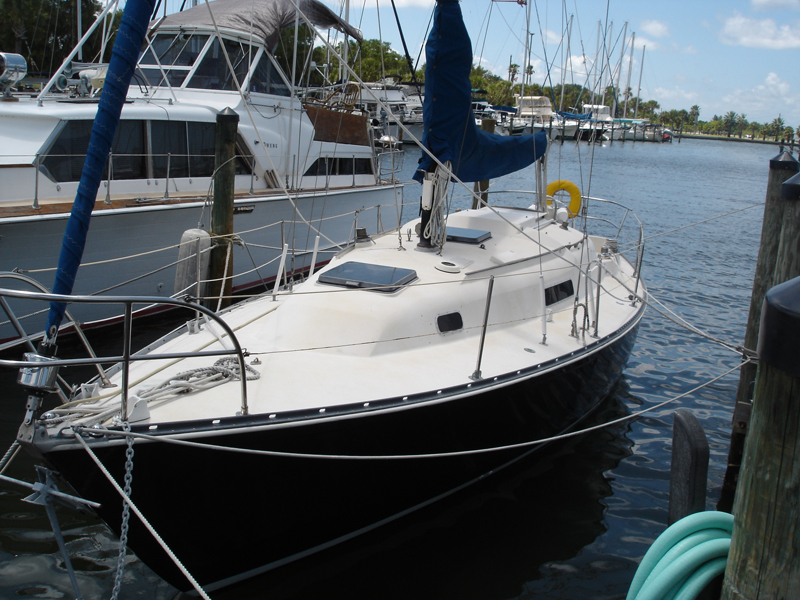 PCurrent picture in marina: Cleaned and ready to sail!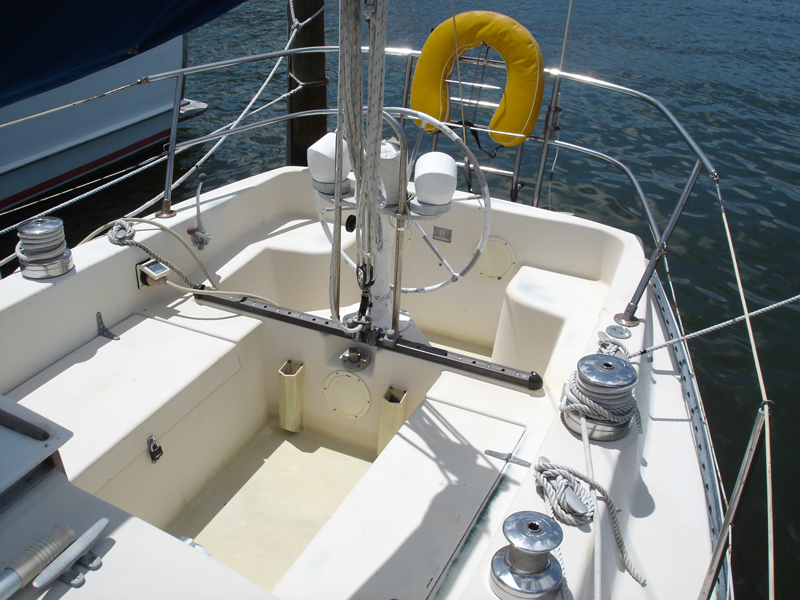 Current picture at marina.




View of boat, before new furler / headsail - before boatyard



LOA 34'7"
LWL 27'6"
Beam 10'7"
Draft 5'3"
Disp. 10,500 lbs.
SA 575.5 sq. ft.
PHRF 120-132


Accommodations: Sleeps six with V-berth forward, convertible dinette port with Hi/Lo table, stbd settee, and aft quarter berth at nav desk. All upholstery has been updated.

Galley Equipment: 3 burner CNG stove and oven, Adler Barbour refrigerated icebox, knife set, and sink with pressure water.

Head: Marine toilet with holding tank and sink with pressure water.

Mechanical equipment: Atomic Four in great working order. Engine bed and mounts rebuilt. Engine space repainted and rewired. Engine exhaust pipes, connection flange, heat tape, and hoses all replaced last year. Emergency steering tiller. Automatic bilge pump and a secondary switched pump.

Electronics / Navigation: Loran, new VHF, new cockpit BH compass, new nav lights, binnicle compass, radar reflector, emergency flare kit, new AM/FM/CD

Electrical: Main panel updated by previous owner, 20 amp battery charger, new 110 wiring and GFCI outlets, new shore power cord. New batteries.

Deck / Hull equipment: New rollerfurl and headsail, nine winches total, updated mainsheet to 5:1 at travelor, through-hull fittings and seacocks all updated and flush, new anchor hause pipe, transom swim ladder. Lifejackets (8+) and horseshoe life ring. Note that the orange canvas in older photos has been replaced.

Other Features: 2004 hullside painted Awlgrip Flag Blue, 16000 BTU air conditioning, new companionway doors (fit & varnished but never used), rail mount gas grill, 2 fire extinguishers.

Please note: This boat features the incredibly reliable Atomic 4 gasoline engine which runs smooth, quiet, economically, and dependably without diesel fumes or black exhaust - I'm not really interested in what you think about diesel engines!



Boat Reviews:

http://www.boatus.com/jackhornor/sail/C&C35.asp
http://www.sailingworld.com/sailboats/boat-reviews/candc-35-200597.html
http://www.cncphotoalbum.com/
http://www.sailboatdata.com/VIEWRECORD.ASP?CLASS_ID=1800


Atomic Four Source:

http://moyermarine.com/
Moyer Marine has helped many a happy boater keep their Atomic Four purrring!



Maintenance / Repair Schedule: Not limited to the following but best I could remember...

Prior ownership (pre 1991) installed a new main electrical panel and Adler Barbour refer.

1991 to 1993 included new toilet and hoses, new fuel tank hose, flush through-hulls, seacocks and hoses, loran, new portlight plexi and seal (still have extra on roll of bead seal).

1995 to 1998 included engine repaint, new engine mounts, engineroom refurbish, 20 amp battery charger, epoxy bottom job, all new upholstery and foam, salon / nav desk interior wood refinished, new lamps, 16000 btu AC, all standing rigging, engine room blower, cable phone connect, throttle/shifter, bilge areas repainted,

2004 spring haul-out got the complete hull painted Awlgrip flag blue (beautiful!), the engine exhaust pipes and fittings all replaced, new companionway doors (varnished but never used). Rewire mast connections at inside terminals.

2005 - present: New batteries, headsail, rollerfurl, bulkhead compass, 110 re-wire, GFCI outlets. New deck light, masthead light, and bow lights.

2009: New epoxy barrier coat / bottom paint, SS Keel bolt backing plates.


Survey: My insurance company has sent out a surveyor twice over the years to check on the condition and make recommendations per their knowledge of 'what goes wrong". The most recent inspection/survey was 2006. Though I do not get a copy of the surveyors comments, the issues forwarded to me for resolution included the 110 wiring and non-GFCI outlets (now marine grade wiring and all GFCI), outdated flares (now current), adding battery terminal covers (added covers). He also noted, though no recommendation was made by the insurer, that the keel backing plates be replaced with SS at next haul out due to rust (replaced).

This boat has had well maintained with only two owners since new. She is tied in like a spider web for any storm aiming my way. My insurance company loves me – zero claims!




Contact: Wesley islandtime@carr-design.com